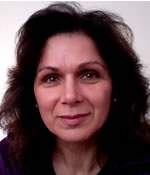 Newcomer Story: Kerstin Dinkheller
I'm Kerstin from Germany and we have settled in Portage la Prairie. I came to Canada with my son on May 2nd, 2012. My husband has been here since 2009 so he was able to help us when we first arrived. In my first week here, I went to the Learning and Immigration Centre and they told me about the English classes that I still attend today. It is a place where I can meet people from different countries and speak with them.
During the summer, there are no classes so that was when I had the opportunity to register with English Online (EO). When I first started using EO, I took the courses and went to the recommended websites for English tests and quizzes. I enjoyed that but I didn't know how to use the Learning Journal and I hadn't tried to call my instructor because I didn't feel that my speaking skills were very good. I finally attended a virtual class. I learned how I can use the Learning Journal so I wrote some sentences in that 'book'. The virtual class gave me the courage to contact the e-Facilitator. I sent my first email to Ianthe at the end of August. I know the date because I wrote in my Learning Journal.
Around that time, I thought about applying for a job so I prepare my résumé with help from the people at the Learning and Immigration Centre. At home, I wrote a cover letter. I searched relevant websites. By the middle of September, I was ready to send my application by email to a company. Only a few days later, I was invited to come in for an interview. I was so happy!
At the same time, I attended virtual classes with Stephanie where I got good information about writing emails and thank‑you cards. Then I attended the EO four-week course called Workplace Communications. It was the perfect course for me because I got the job I applied for and I learned many things that I could and can use in my workplace. Now I have to speak with other people every day.
My goal for 2013 is to be able to dream in English!
---
Newcomer Story: Gemmarose Claveria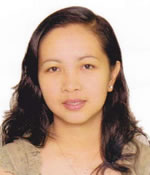 I am Gemmarose, I've been in Winnipeg for more than a year. As an immigrant, speaking and listening English is the first challenge to overcome. This is the reason why I enrolled in English online. I want to know the strategies in catching up to the fast-Canadian speech and to speak fluently in English. Learning English online is a great opportunity for me as a stay home mom. It gives silver lining in achieving my aims while being tied down with my sons.
At first, I found Learning English online to be very difficult. In this sort of study, I need to accomplish lessons differently from the traditional classroom learning. I need to set time aside to attend classes and study every detail. That's my real experience in learning English online. I find lessons and exercises interesting and truly helpful. I love the way they value individuals. I am happy being one of the English Online community.
---
Newcomer Story: Iryna Bakunets
Ira at the stage after watching a ballet at the Centennial Concert Hall, Winnipeg.
Love actually brought Ira to Manitoba. She first met her husband through his sister who was Ira's friend. At that time, Ira's husband-to-be was vacationing in the Ukraine for Christmas (he was a permanent resident and working in Winnipeg then) when love bloomed between them. "We carried on a long distance relationship for about a year and a half and then he came back home to propose," she remembers fondly.
"When I came to Canada four years ago, I didn't know any English at all," she said. Ira was caught up with all the arrangements for the wedding and moving to Canada that she did not have the time to study English prior to leaving. When she arrived in Winnipeg in October 2011, she quickly learned that she would have to become accustomed to the way of life and quickly learn the language in order to fend for herself. "For instance, I saw that in Canada, everything is indirect. Everyone is so polite and diplomatic. Not to say that we are not polite but Ukrainians are quite direct. So I had to get used to how they say and do things. Communication was a big factor since I didn't know any English at all. I was dependent on my husband for everything! I felt like a baby who could not do things for herself," Ira laments. Prior to immigrating, Ira was a practicing corporate lawyer, so being helpless was something new to her.
Learning English
This pushed her to start learning the language as quickly as possible. As she was not a permanent resident yet, she enrolled in paid ESL classes. She first took classes at Heartland School, followed by another course at Red River College. She also enrolled at the University of Winnipeg. However, when she was sidelined by her pregnancy, Ira stopped her English courses. And then she was pregnant again the following year.
"After my kids were born, I wanted to go on with improving my English but I couldn't continue taking classes in person. But because I already learned the basics from my previous classes, it made me more confident to start studying online which was the best solution for me," Ira said. She heard about English Online from one of her friends and decided to try it. By this time, she was already a permanent resident.
"In April 2014 I started studying with English Online and afterwards I joined the LINC Home Study Canada program in July. At that time, my CLB was 6 in listening, reading and speaking; in writing I had CLB 5. Today, after one year of studying with LINC program, I feel that I advanced my English substantially. Not only did I reach CLB 8 in all four language skills, but I also got more confident and efficient in using English in my everyday life. In addition to this, I learned a lot about settlement, post-secondary education and working in Canada," Ira said.
A world of possibilities
"These days, I can communicate with people, make calls, watch TV shows and theatre plays, write essays and different types of letters, and read magazines and books in English without fear of misunderstanding or being unable to express myself properly as it was at the beginning," Ira says with a beaming smile.
She also recently passed her driving test and earned her permit in August. So from a blushing bride who was totally dependent on her husband, Ira is now a confident mom with a whole new world of opportunities opening up to her.
As her children are growing, she is planning on going back to building a career. She is looking into options for a career shift or to taking courses towards becoming a legal assistant. Hearing her talk about her plans for the future, you cannot be anything but excited for her.
Tips for other newcomers
Aside from learning English before coming to Canada, Ira shares the best advice she received as a newcomer:
"The best advice for me was to take advantage of the free courses and programs in Manitoba. There are many of these available and they are amazing! I have attended many parenting programs, like a breastfeeding support group, the healthy baby program, kids@play, and Rhyme and Story Time. I learned a lot from them. They even offer other support like free milk coupons until the baby is six months, and bus tickets. All you need to do is go and participate," Ira says.
Asked what she loves most about living in Manitoba, Ira says that: "In Manitoba, you can enjoy life and not have to worry about what's going to come tomorrow. You can be free to be yourself. You can choose to take care of your children or choose to practice your profession. You can even shift to a different career if you like. It is a good place, it is safe and secure. You can have a good life here with plenty of opportunities for growth."
---
Newcomer Story: Oleksandr Hryntsiv
Oleksandr and his family came to Manitoba from Ukraine in March 2014. A close friend convinced him to immigrate to the province and offered to sponsor them. So, together with his wife and three year old son, the family settled in Portage la Prairie, a small city in the Central Plains region of Manitoba, 85 kilometres west of Winnipeg.
Adjustment period
When they arrived in Manitoba, Oleksandr found it difficult at first to adjust to the culture, transportation, and especially the language. "Aside from learning English, I had to learn how to communicate in an indirect way. I found that people here are always so polite and service is (pleasantly) different," he said.
With the help of his friends, he began to seek out settlement support services, such as Manitoba Start, to help him get the proper information and the training that he needed to get a job. A bigger challenge, however, was the distance. He realized that some of the services that he needed were in Winnipeg, which required a long travel from Portage la Prairie. This wasn't easy, especially during the winter.
In the meantime, he and his wife attended the Newcomer Welcome Centre in town for ESL training. But once Oleksandr started working, he found it hard to find free time for language training and to attend face to face classes.
"I could not believe that I could find somebody in my own field who would be willing to teach me and help me. Mercedes Hudson, my e-mentor, introduced me to the Certified Technicians and Technologists Association of Manitoba (CCTAM) and helped me get my educational credentials and experience assessed," he said.
The online option
Oleksandr knew that he needed English language training so he tried to look for other options. It was through the good people at the Newcomer Welcome Centre that he got in contact with English Online (EO). The facilitators told him about the flexible English language training carried out through Skype and arranged for him to register.
At first, Oleksandr tried out the Group Study sessions. "Aside from English, I also Iearned how to write a resume, cover letter, official and non-official email, and prepare for an interview. EO also taught me how to make presentations using Powerpoint," Oleksandr related. More importantly, learning about workplace communications widened his perspective at work. "Because of what I learned at EO, I could now relate to colleagues better and now understand what the management expects from me," he said.
After the Group sessions, Oleksandr was paired up with an EAL e-tutor so he could have one-on-one language training. "Compared to learning with a group, I liked that you could ask questions whenever you need to when you study with an e-tutor. You don't want to draw a lot of attention to yourself, so sometimes, even when you have a question, you don't raise it in a group session. Also my e-mentor, Lillian Bernard, who has Ukrainian background, helped me translate words and especially phrases from English to Ukrainian to understand their proper meaning , and explained the way to communicate well," he said. With the flexible arrangement he had with the e-tutor, Oleksandr was able to make time for studying English in the evenings and even during the weekends.
Another challenge was getting his education and experience recognized. Oleksandr holds a Master's Degree in Mechanical Engineering and before he left Ukraine, was a self-employed mechanical engineer. So when EO offered the services of a Career E-mentor, he readily accepted. "I could not believe that I could find somebody in my own field who would be willing to teach me and help me. Mercedes Hudson, my e-mentor, introduced me to the Certified Technicians and Technologists Association of Manitoba (CCTAM) and helped me get my educational credentials and experience assessed," he said. Oleksandr has also taken some courses at the University of Winnipeg and will take an English test in January, all in preparation for the membership process to the Association of Professional Engineers and Geoscientists in Manitoba (APEGM).
Growing possibilities, growing family
"I am very thankful to English Online for all their help. I know that hard work will make newcomers succeed, but without the direction first, which EO gave me, I would not know how to start," Oleksandr said. Now a believer in online learning, he urged his wife to register with EO too. "Learning with EO is the perfect arrangement for my wife who has to take care of our son and our new baby (a daughter). I suggested learning with an EAL e-tutor to her and so far she likes it and says that it is very effective for her," he said.
Asked about tips he can share with other newcomers (aside from learning English before coming to Canada), Oleksandr generously said, "be prepared for winter". For me, winter may not be a big deal because we experience this season at home, but I say this especially for those who are not used to it. The weather can be very difficult to adjust to," he said.
"Also, always stay positive. Manitoba is a place of possibilities. So long as you are willing to work hard, you will succeed in Manitoba," he ended with a smile.
---
Newcomer Story: Rhea Bugarin
Rhea Bugarin is a lady with a plan. She is petite and somewhat soft-spoken, but while talking to her, you will realize that she is a person who has determination and a strong drive to succeed. Prior to coming to Manitoba, Rhea, a medical technologist, was already managing a hospital laboratory in the Philippines. But because she wanted more opportunities for growth and because her cousins did a good job of convincing her, she applied through the Provincial Nominee Program and landed in Manitoba in April 2013.
Horror stories
While Rhea was set on coming to the province because of the great things her cousins had told her about living here, she was also anxious because of the horror stories she had heard from other people. "Generally, they said it will be hard to get to the same level where you currently are at in your career. They said that life would be difficult in Manitoba. There will be discrimination and you could be stuck in survival jobs for the most part," Rhea said. For someone who was very career-driven, this made her wary. However, it was this fear that pushed her to do more research and prepare thoroughly for her impending new venture.
Learning English and beyond
Foremost in her process of preparation was getting her language skills ready. "I thought that being very comfortable with English would help a newcomer succeed, so I made sure that it was on top of my 'to-learn' list before coming to Manitoba," Rhea remembers.
She came across English Online in one of the documents CIC sent her. "I was amazed that Manitoba had a free initiative like that. Out of curiosity and backed with the goal of improving my language skills, I signed in." But beyond developing her proficiency in English, what Rhea appreciates most were the courses that touched on settlement and career topics. "Aside from learning English, courses about workplace culture (and the culture of Canada in general), career advice, what to expect in Manitoba and how to make a Canadian-style resume, helped me a lot in my journey. Iwona, Natalia, Ianthe, Olesea and Blaine were among the dedicated people who facilitated these courses," Rhea enthuses.
"While the e-facilitators told us about the challenges we will be facing, they also assured us that Manitoba is a wonderful place and that the people are friendly. This helped me set realistic expectations before coming here. And when I came to Manitoba, I did see that people are friendly and that it is a wonderful and welcoming place", Rhea continues. She was a learner with English Online for about a year before she came to Manitoba.
Rhea believes that research, planning and preparation made it easy for her to settle in her first few months in Manitoba. She didn't find it too hard to adjust, even in the winter months, because she said that she knew what to expect and was set for it.
Land of opportunity
Today, Rhea is working at Manitoba eHealth, which provides electronic health systems to health care providers in the province. Her work has allowed her to shift into an IT-related field while still making use of her knowledge in the medical sciences. She has also obtained her medical technologist certification despite intending to shift careers when she got here. "I felt that I needed to achieve the certification as a fall-back in case my plan for a career shift is not successful," she said.
Aside from working full-time, she is also now an e-volunteer with English Online. Rhea believes that it is her opportunity to give back to the organization that was instrumental to her smooth integration process. She also wants to impart her experience and knowledge to help newcomers like her.
Words of wisdom
To other newcomers, Rhea has this to say:
"Prepare, do your research before coming to Manitoba. For those who are already here, never stop learning. Free resources are available, use them. Learn the language, it is the first step to understanding the work culture. Be open minded, think for example, discrimination does not really exist at all, that it could just be miscommunication . And most importantly, determine how you can overcome other expected hurdles, even better if you find ways to use them to your advantage, in a good way. "
"Also, one needs to be flexible and adaptable. Although it is important to retain one's culture, and Manitoba encourages multi-culturalism, you must also learn how to respect and manage to get along with people's ways here. This is not just applicable career wise, but this will also make your life easier in general."
---
Newcomer Story: E. H.
It was the beginning of February. We just arrived from the airport to our rental apartment. It was empty. It had no beds, no table, and no chairs. My son asked me, "Why don't we have a TV?" and "where we are going to sleep?" A friend of ours brought us a couple of mattresses and a little food. We ate, and then we lay down and fell asleep.
The first month was full of action: lots of shopping, paperwork, and visiting different places, such as the bank and health clinic. We met lots of new people, and of course, we continued studying English all the time with English Online. At the end of the month, we already had a TV, beds, and a table. We had everything we needed in our apartment. Our son was going to school just like any "normal" Canadian kid.
The second month I started looking for a job. My profession is not in high demand in Winnipeg, but I tried very hard and used everything I learnt during my English Online classes. I sent my resume to all the companies that related to my job, even if they didn't post any vacancies. I called related companies and asked them for an informational interview. After a few weeks I started working at my first job in Canada. A little while later, I decided that I didn't want to pay for a lease anymore, so I started looking for a house for my family. We saw more than 20 houses before we found one that we really liked. We signed an offer and bought that house.
I want to thank English Online, all its teachers and volunteers for their incredible work. I would have never had this success without their help and support before and after my arrival in Canada. It's not only English that they teach, it's way more than that. It's preparation for a new life!
---
Career e-Mentor story: Vadim Nazimov
From an early age, mechanical engineering has been Vadim's passion. His interest in this field started at 16, while he was studying at a technical high school in his home country, Israel. His passion moved him to accomplish an early certification as a mechanical technologist, which led him to become a millwright of heavy duty mechanical equipment in the military. Later on, he earned a degree in Mechanical Engineering (Bachelor of Science in Mechanical and System Engineering) and built a fruitful career as a manufacturing and design engineer. So when Vadim and his family decided to immigrate to Manitoba in 2011, there was no doubt in his mind that he would pursue mechanical engineering as his profession in Canada.
Prior to the move, Vadim and his wife conducted a considerable amount of research about living conditions in Manitoba and the job market as well. They loved that Canada had freedom of speech, valued human rights and was impressed with its diverse natural beauty. "We also found out that Manitoba has an affordable housing market, good health system, childcare and school division programs, and a diverse job market. It is a great place for a young couple to raise their kids," he said. They had also visited Winnipeg in 2008 and liked that it was a small city with quiet neighborhoods and parks.
Of course, Vadim gathered information about how he can be a practicing engineer in Canada and in Manitoba, specifically. He spent hours perusing government sites, the Association of Professional Engineers and Geoscientists of Manitoba (APEGM) site, and organizations offering financial help for professionals like him. He also explored forum websites and emailed people and organizations to know more. Despite this, he felt that most of the information he acquired were general in nature, and did not provide answers to questions that were specific to his case.
Arriving in Manitoba
Vadim, his wife, and one year old daughter came to Manitoba in January, in the middle of winter. "I remember it was below 20, and it was a huge transition for my family and me because in my home Netanya (Israel), temperatures in the winter stayed at least above +12 degrees," he said.
Nevertheless, he worked right away on finding out more about practicing his profession in Manitoba. And in the first few years, he earned his Certificate of Engineering Technologist (CET) diploma in Mechanical Engineering. He then started working in engineering-related jobs in Winnipeg and studying at the University of Manitoba, enrolling in the Internationally Educated Engineers Qualification (IEEQ) Program. Currently, Vadim is on his final year and is well on his way to becoming a professional Engineer.
"My goal, when I'm working with a client, is to build a session for him, and provide as much information related to his specific case. During our sessions, we define our objectives and come up with the best plan of action to achieve them."
Opportunity to help
"In my opinion, one of the most difficult decisions people have to make during the immigration process is to leave a job or career that they love, especially if they are successful in it. In many cases, their profession is their passion. They worked hard, and spent time and money to achieve their degree, so it would be hard for them to understand why they would have to start almost from zero when they come here," Vadim said.
Having experienced this first-hand, and after seeing that research prior to coming here is not enough, he felt that he had a unique opportunity to help out. He started volunteering as a Career e-mentor at English Online in 2015 with the purpose of helping newcomers realize that they can achieve their target of being an engineer in Canada and making the integration process smoother for them.
"My goal, when I'm working with a client, is to build a session for him, and provide as much information related to his specific case. During our sessions, we define our objectives and come up with the best plan of action to achieve them. We talk about creating a targeted resume, preparing for an interview, and focusing his job search by creating a list of companies he can apply to. I also dedicate sessions on Canadian and Manitoban government agencies he can receive help from, general topics related to day-to-day life in Winnipeg, dealing with emergencies, about hydro, MPI, and of course basic things about dealing with winter," Vadim shared.
Despite having to manage his time between work, studies and his family life (he now has two small children), Vadim takes on the challenge of doing research and preparing a mentoring plan tailor-fitted to his mentees. He does not want to talk about his contributions, but he has assisted several English Online learners greatly in their transition, even helping one get a job quickly because of his guidance in crafting a targeted resume. A true mentor, he says that: "This experience is a learning experience for my mentee and me as well. Sharing information is definitely beneficial for both of us."
Tips for other newcomers
Vadim shares six important pointers for newcomers to succeed in Manitoba:
Define your goals and plan for your future
One of the best ways to prepare yourself for immigration is to make a list of goals and the ways you plan to achieve them based on your current knowledge. This list will help you be prepared and guide you in looking for the information that you need and where you might get them. Stay positive and continue to move toward these goals, gradually. The path might be difficult and challenging sometimes, but achieving them is definitely possible.
Believe in yourself
There may be a lot of uncertainty in the future, but you already made a brave decision. This shows that you are strong, as only strong people make these kinds of decisions. Moreover, you will find that many wonderful people will help you along the way. You're not alone.
Ask questions
Try to ask questions and make notes all the time. You might need the information in the future.
Use available resources for new immigrants
Manitoba has a lot to offer and many of these resources are for free. Take advantage of these support services because they are made specifically to meet your needs.
Understand that Canada is multicultural society and workplace culture might be different from what you are used to
Spend time researching and asking questions from people who have the experience.
Be open to changes
Be ready for new work, new school, and new friends. Navigating this requires flexibility and openness toward changes.